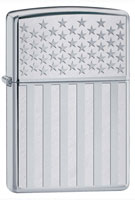 It's hard to imagine that a small device used for igniting a flame could ever reach an iconic status, but one such device has managed to do so over the majority of the past century. This year marks the 80 year anniversary of Zippo brand lighters, and there are a few things you should know if you are looking to purchase one. As they say, imitation is the sincerest form of flattery, and these collectible little flame makers have seen their share of imposters. Here are a few things you should know about finding
authentic zippo lighters
.
1) Fake Zippo lighters will come with a non-Zippo insert. Real Zippo lighters will be branded with Zippo on the insert with a message about using only Zippo brand flints and fluids.
A fake one just gives a message like "keep away from children" and the mount for the spring cam is usually way too wide causing it to move from side to side.
2)
The Zippo stamp on the bottom of the fake lighter will often look a bit irregular. On authentic devices, the flame over the "i" is noticeably taller than the rest of the letters. On the fake, the letter Z is as tall as the top of the flame. The stamping will also be much fainter.
3) You may notice that
the spot welds on authentic Zippo hinges are often oval and not very obvious. A fake lighter welds are deeper and almost perfectly round
4)
The large majority of knockoff Zippos will almost always leave out an orange safety sticker. Authentic Zippo lighters have included a small orange sticker for at least 30+ years so be sure to check for that.
5) You will also want to look at the
date code stamps. A fake date code stamp has thinner letters and numbers which are usually faint in appearance. Legit stampings are deep and the lines much thicker. Be sure to also check where it says "MADE IN USA". We've seen fake ones where 'USA' is taller than 'MADE IN'. Authentic lighters will always be uniform in appearance.
So tell us, have you ever been burned by a fake Zippo (pardon the pun)? Let us know in the comments and be sure to check out the full line of eclectic Zippo lighters at Army Navy Shop.