Below is a note sent to us by one of our customers. Please feel free to write us with your story, and we'll probably publish it here. Thanks for reading our blog.
It's boy scout time and you might be shopping around for
camping supplies.
I am a mom of a first year cub scout and I am very happy to have found some great items on the
Army Navy Shop
website. Army Navy Shop has many items to choose from such as insulated cooler bags, lanterns, survival and first aid kits, camping chairs and backpacks, sleeping bags, tents, and more. You can easily find all of your camping and boy scout supplies on the Army Navy Shop. A specific item of interest is the
camo trail tent
. This tent is made for two people. One of the best features is that it only weighs 3lbs and 8 oz., making it very lightweight for your young camper to carry. The camo trail tent comes with the stakes and rope for set-up. It also has a reinforced polyethylene floor. The large mesh window makes it easy to check on the boys without waking them up. The best part about this tent for me was the price was very reasonable. I am very excited to use this tent and take my son on his very first camping trip! I hope to blog again and let you know how the trip went and how the tent holds up. So far, I am pleased with the
Army Navy Shop
website and the wide variety of camping products that I will be able to purchase for my cub scout!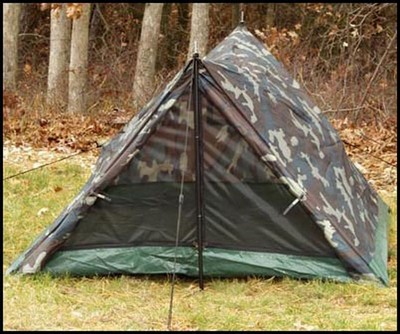 Camo Trail Tent